---
Need a housekeeper to maintain your home and keep your
household running efficiently?
Welcome to OC Home and Family, where our rigorous hiring and screening process means you can choose from only the best candidates for your housekeeping or other household staff position. Whith extensive background checks, vetting of references and personal screening interviews, we've gethered the most responsible and professional housekeepers in the Southern California area to help you maintain house and home.
We've helped hundreds of people just like you find hire the right help for their needs.
Remember, only OC Home and Family provides full time, part time, temporary or permanent employees for your family and your household…people you can count on when it matters.
To find the perfect match for your family, we conduct the following screening process: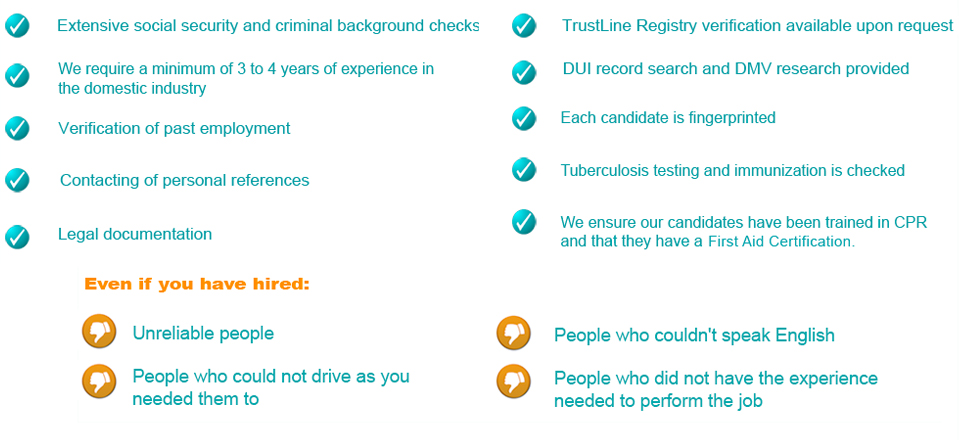 We can ensure that this does not happen again thanks to our rigorous screening process, our mandatory criminal background and our unlimited replacement guarantee.
That's why you can count on OC Home and Family for the warm, friendly and meticulous housekeeping staff you won't find anywhere else.
To start interviewing candidates right now at no cost and no obligation:
Call Today at (949) 335-7963 OR fill out the form above and we will call you right away.
Here's what our clients have to say:
I was in need of a Housekeeper for to clean my place, I requested the
services of OC Home & Family. I was very satisfied with the work performed by the person they sent me as well as the follow up
Person was on time, did a thorough cleaning, asked questions when needed and
her rate was reasonable.
I would highly recommend OC Home & Family!
VERONICA
I told Beatriz Pierce at OC Home and Family that I needed a housekeeper and she found me Elizabeth who I am extremely pleased with.
Elizabeth cleaned my house thoroughly and it was spotless when she left. I would highly recommend OC Home and Family as its staff are professional
and was on time
which was
important to me.
RAM
OC Home and Family provided me with such peace of mind when I was looking for Child Care for my 2 children. Beatrice was supportive, caring and trustworthy every step of the way. The professionalism combined with knowledge and integrity put me at ease. OC Home and Family found me a Nanny that my children loved and that suited our needs perfectly! That is so important. I would recommend OC Home and Family to anyone looking to have peace of mind with guaranteed satisfaction from start to finish!
Thank you Beatrice!
CASSANDRA